Oscar Enberg The Pynchons S01E02: Slouching Towards Dignity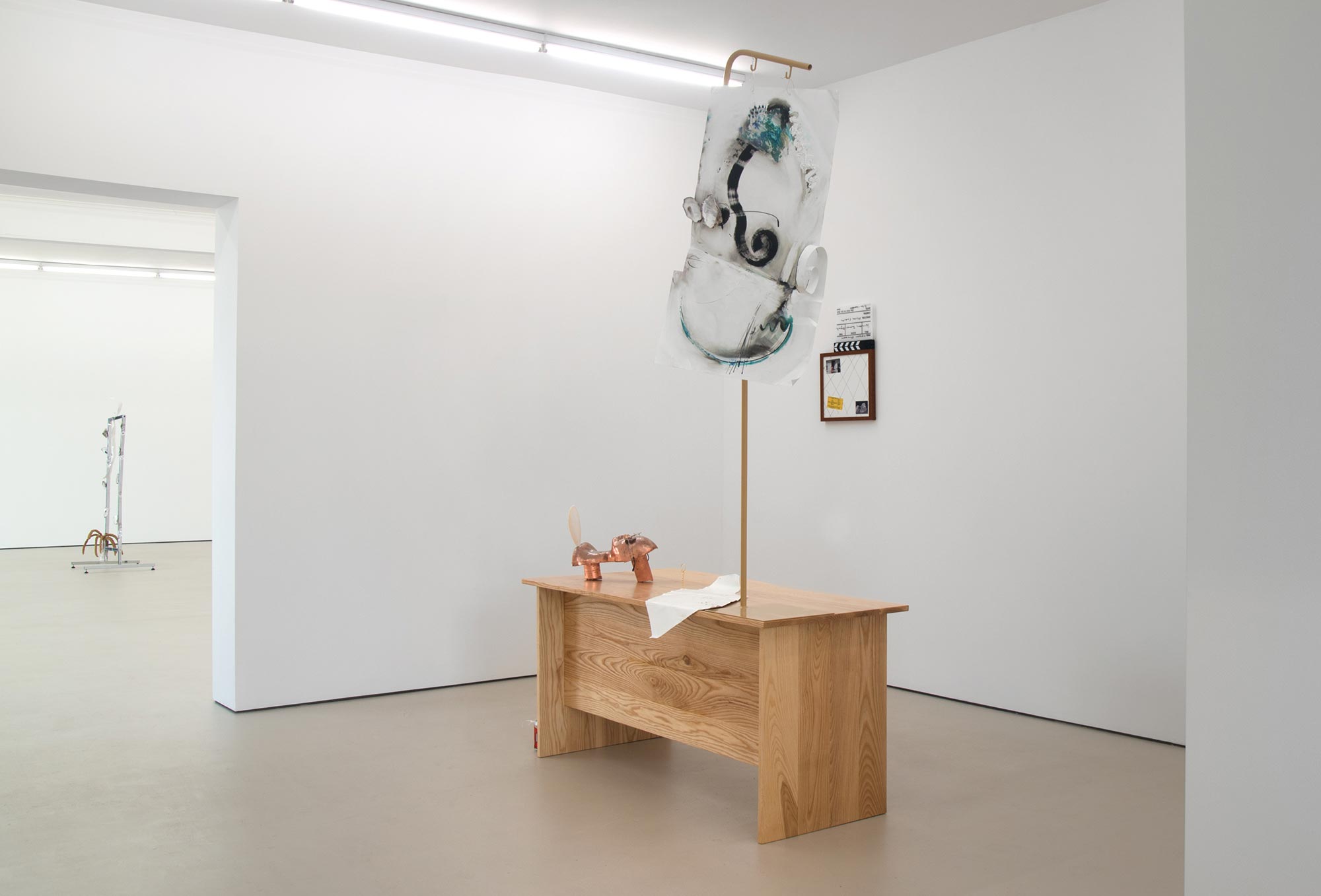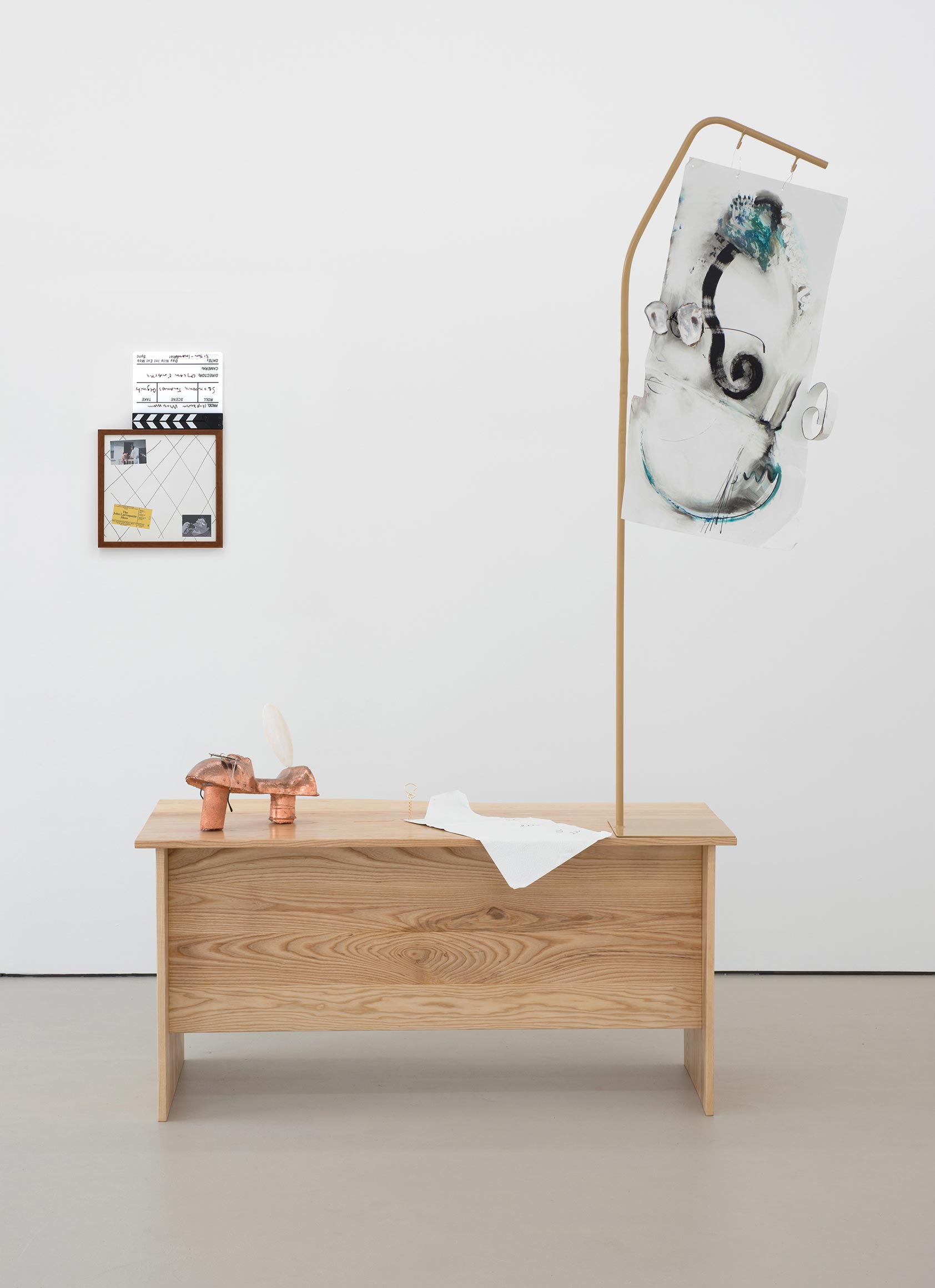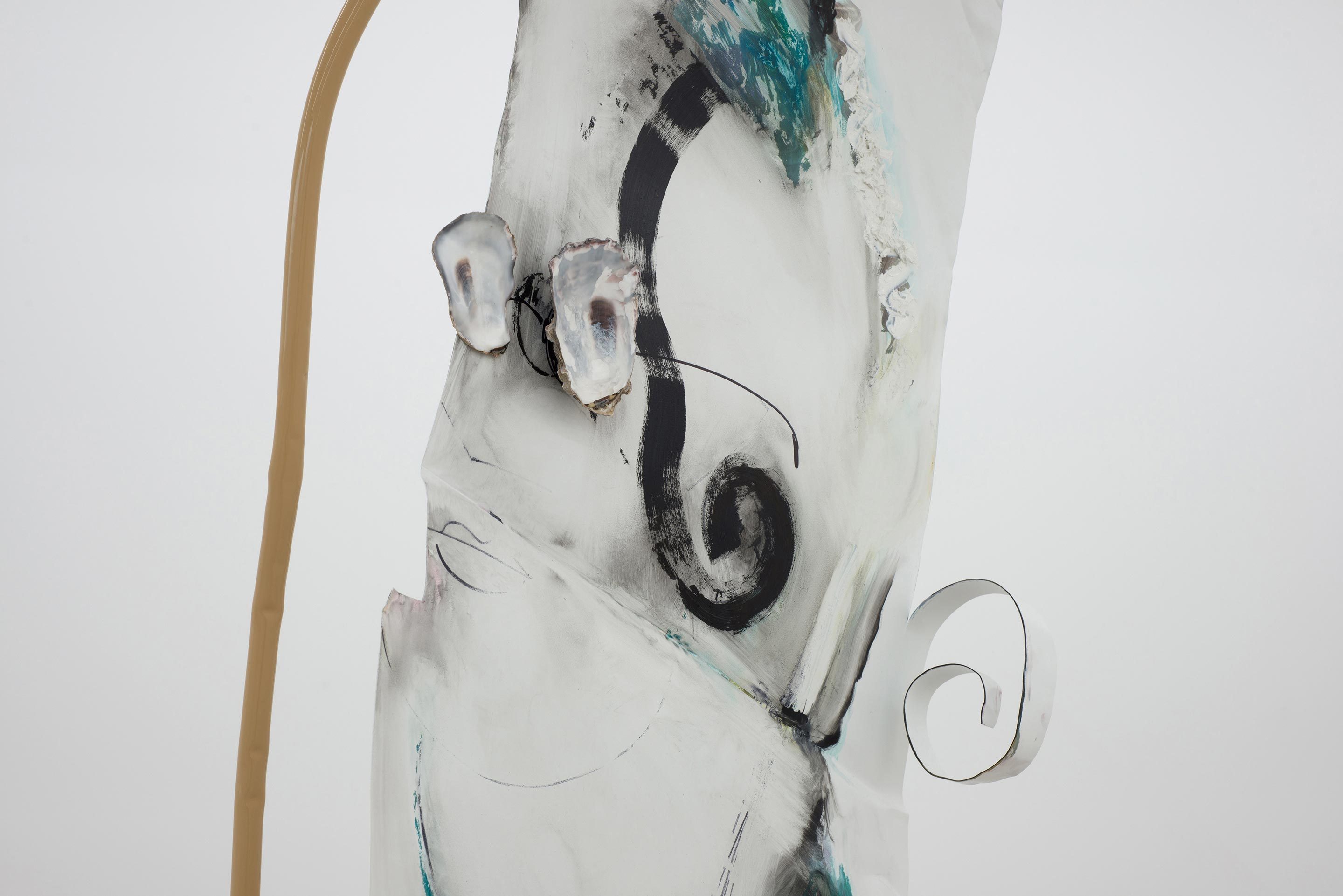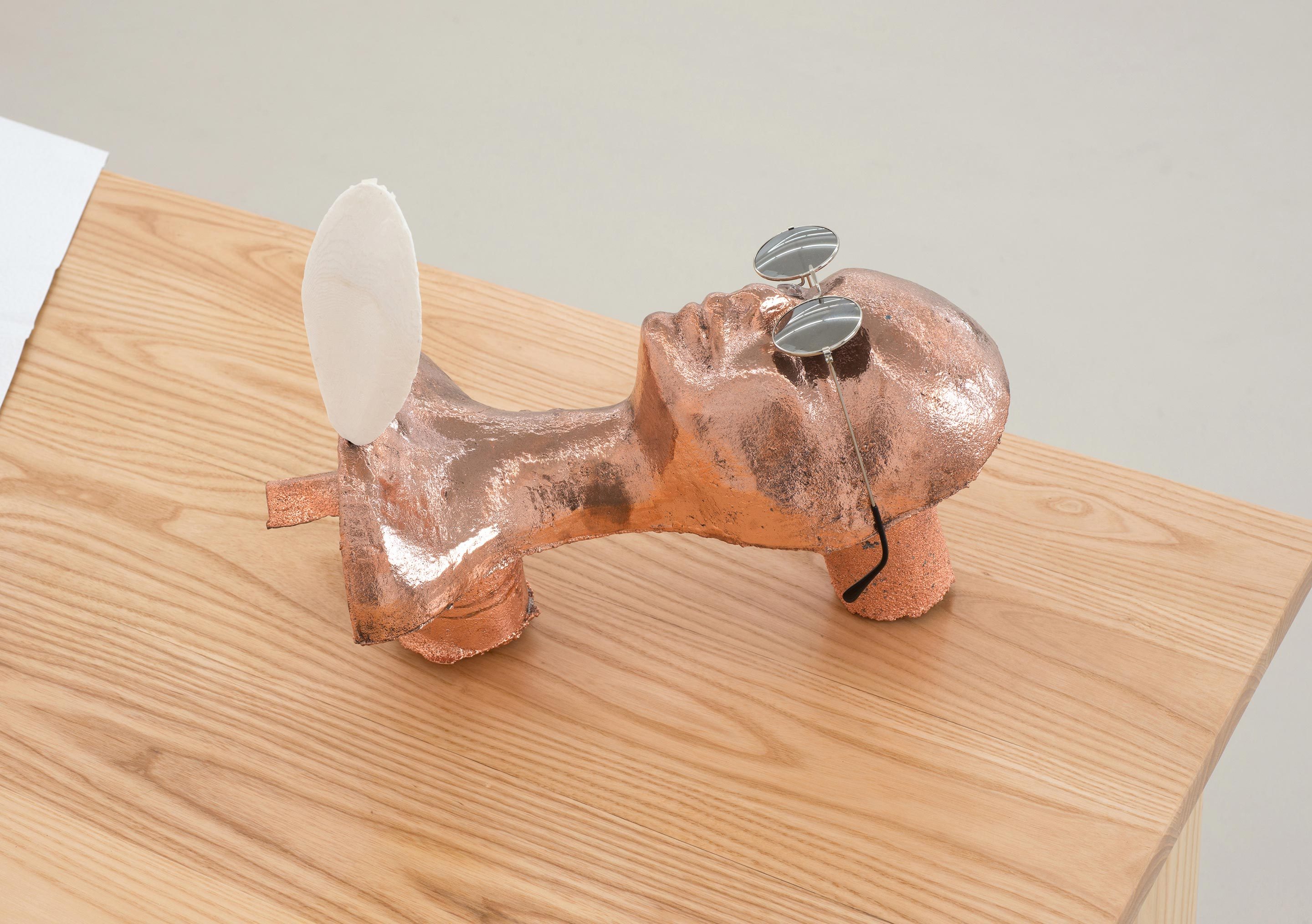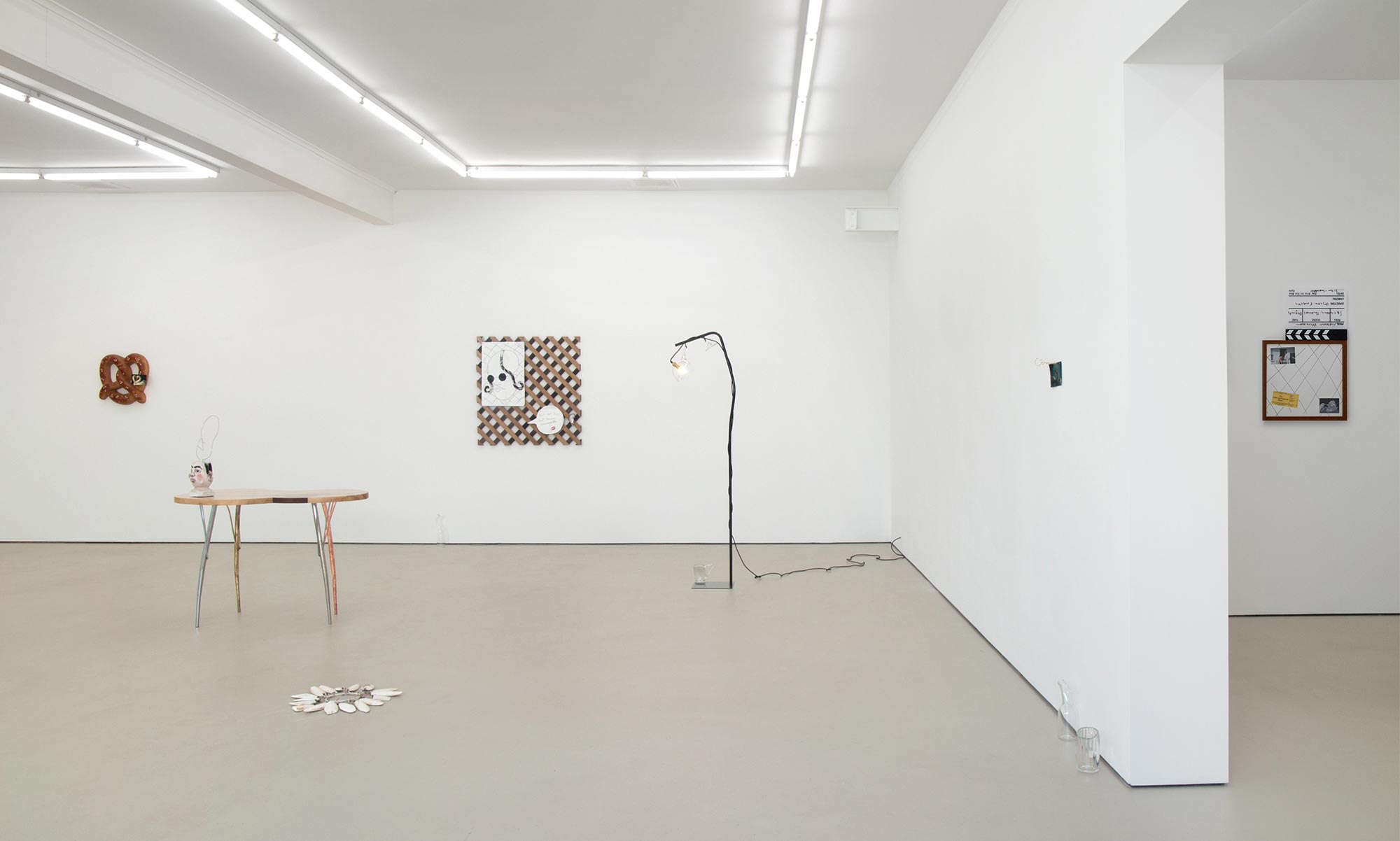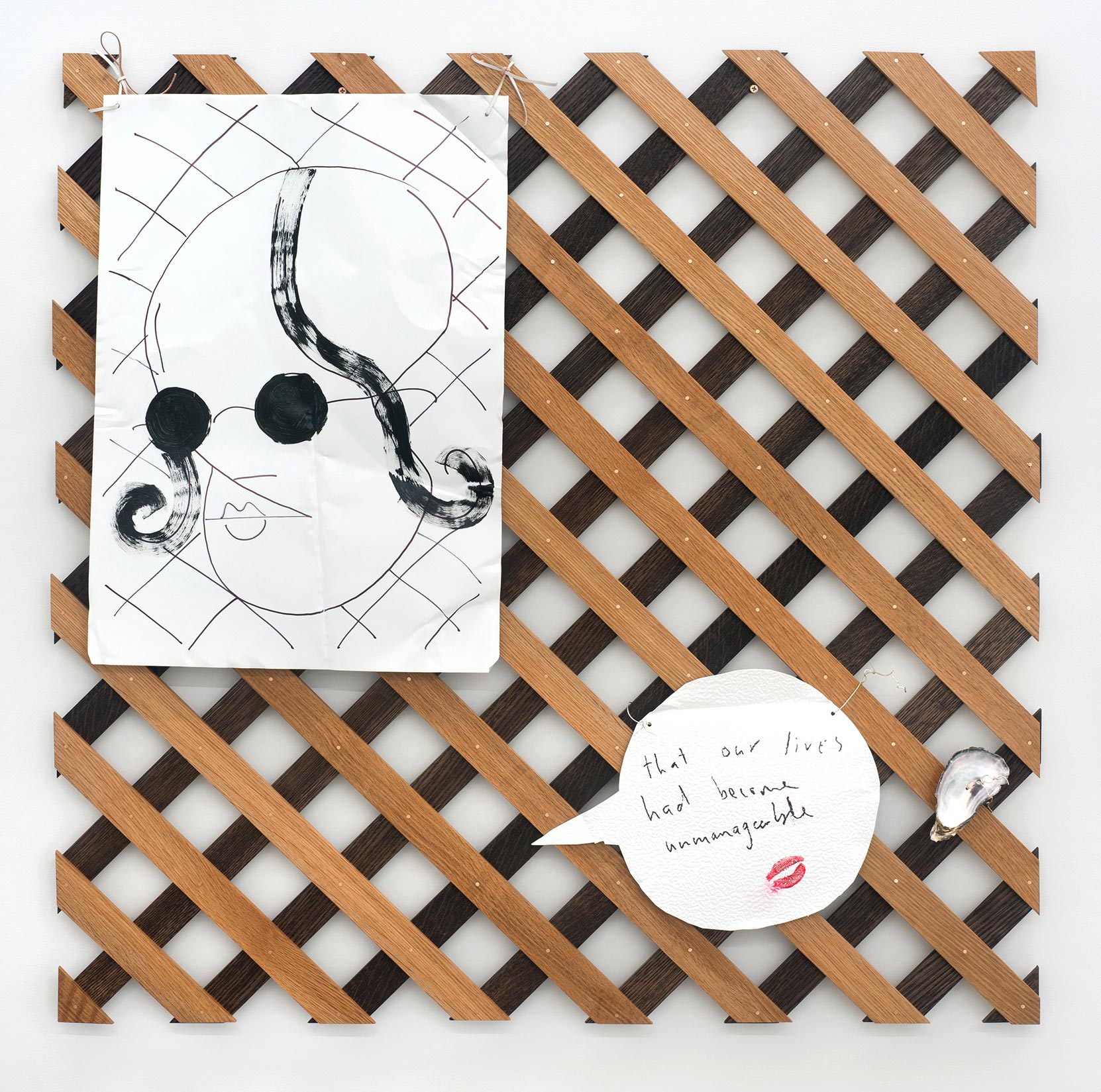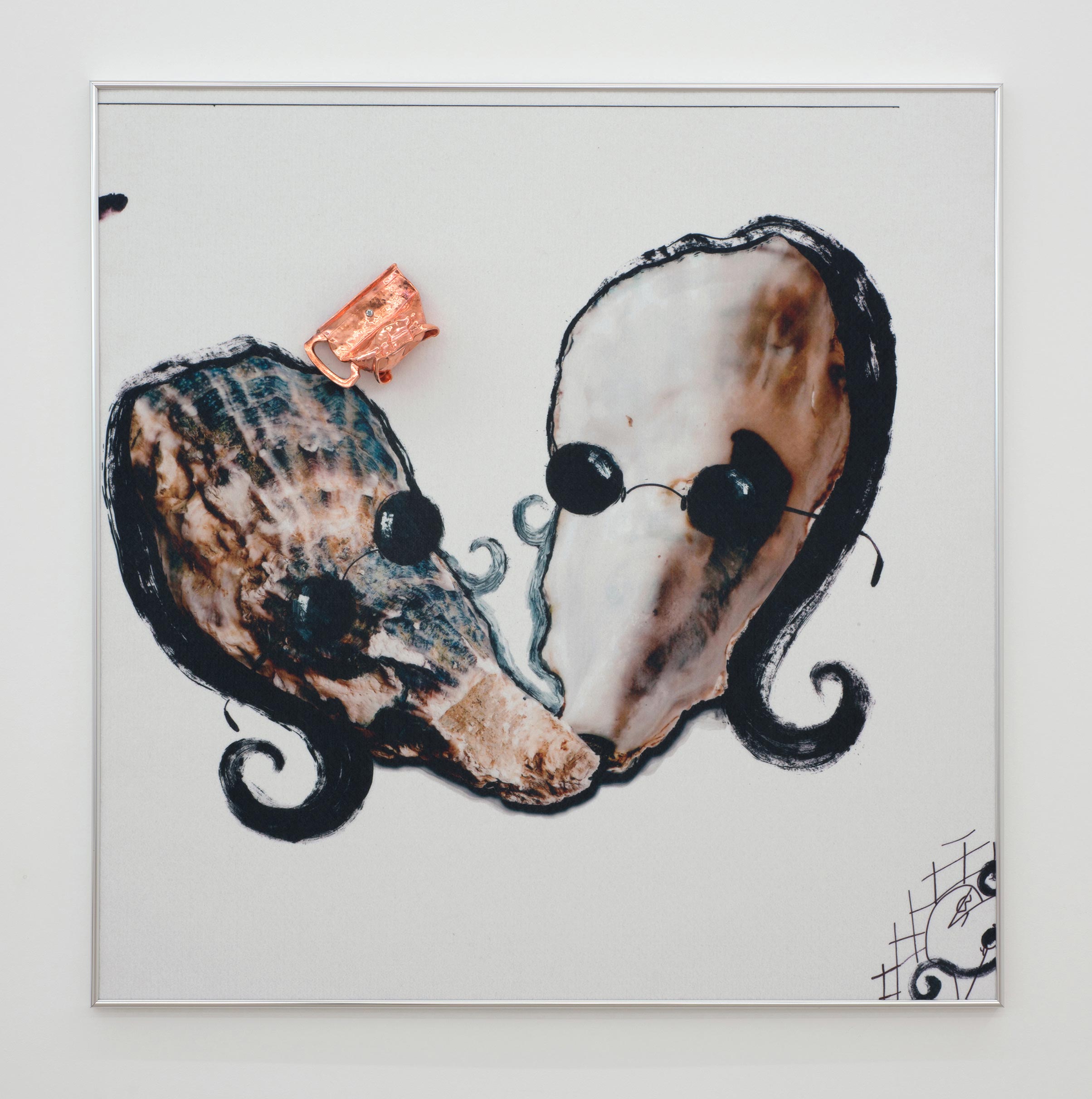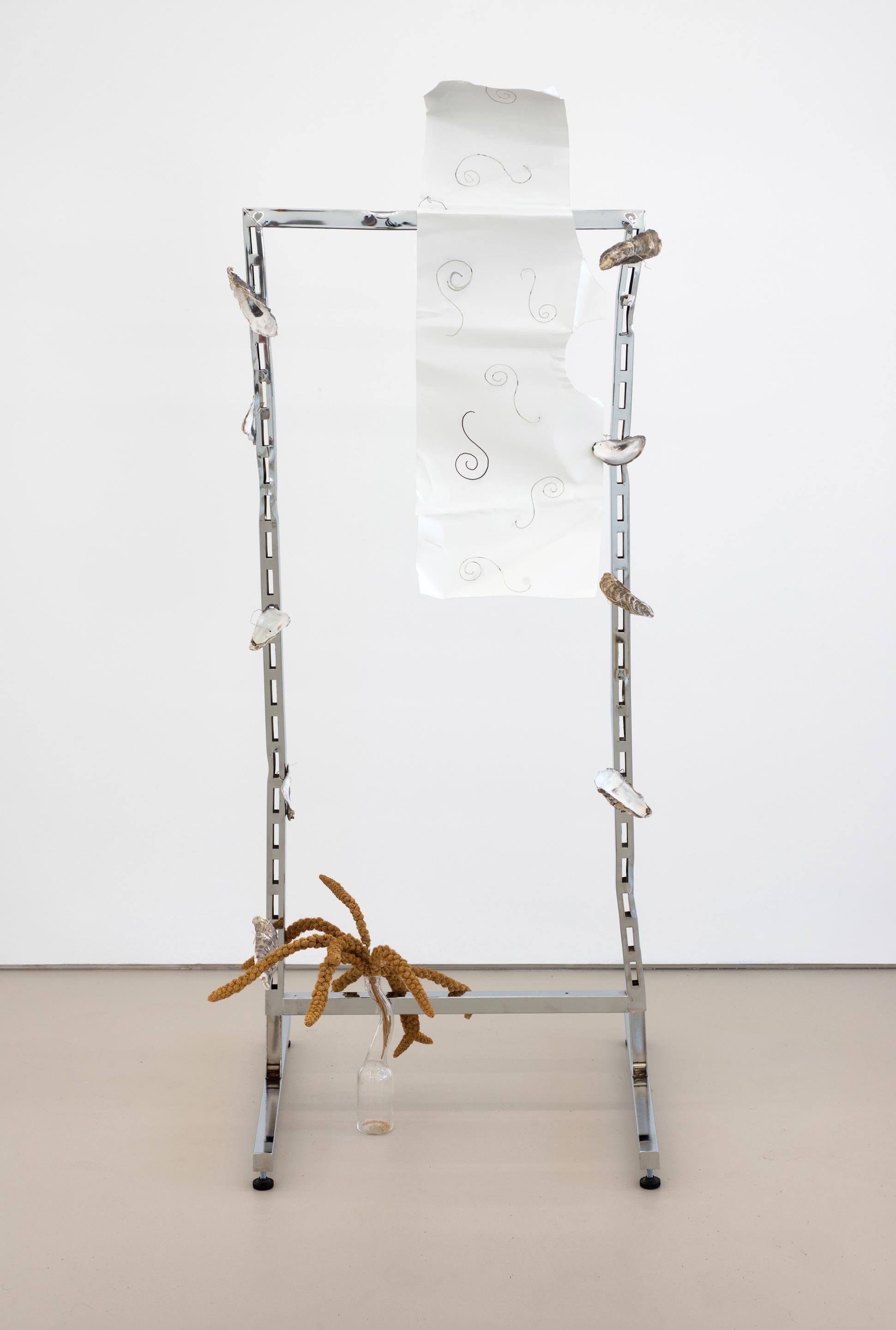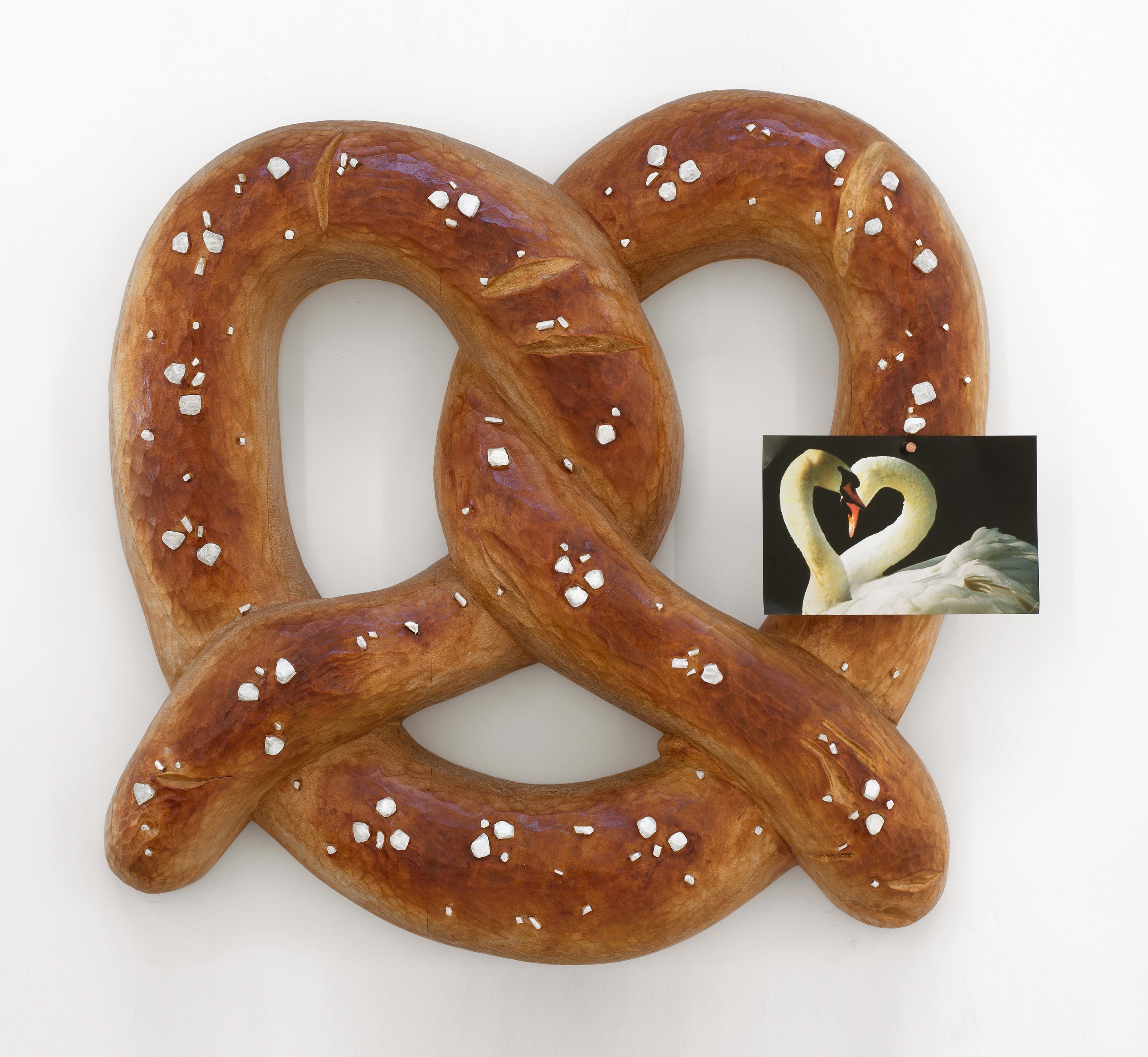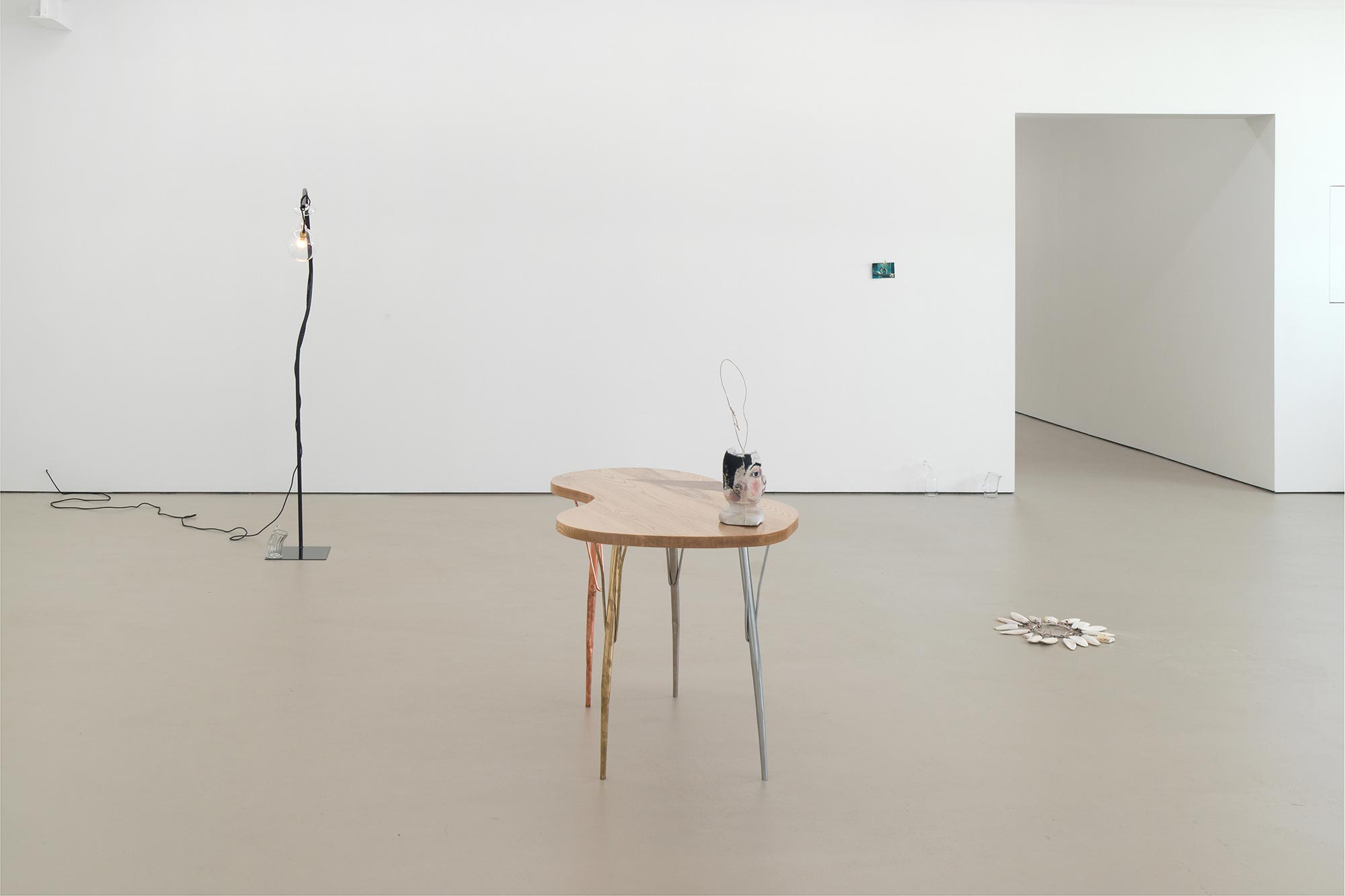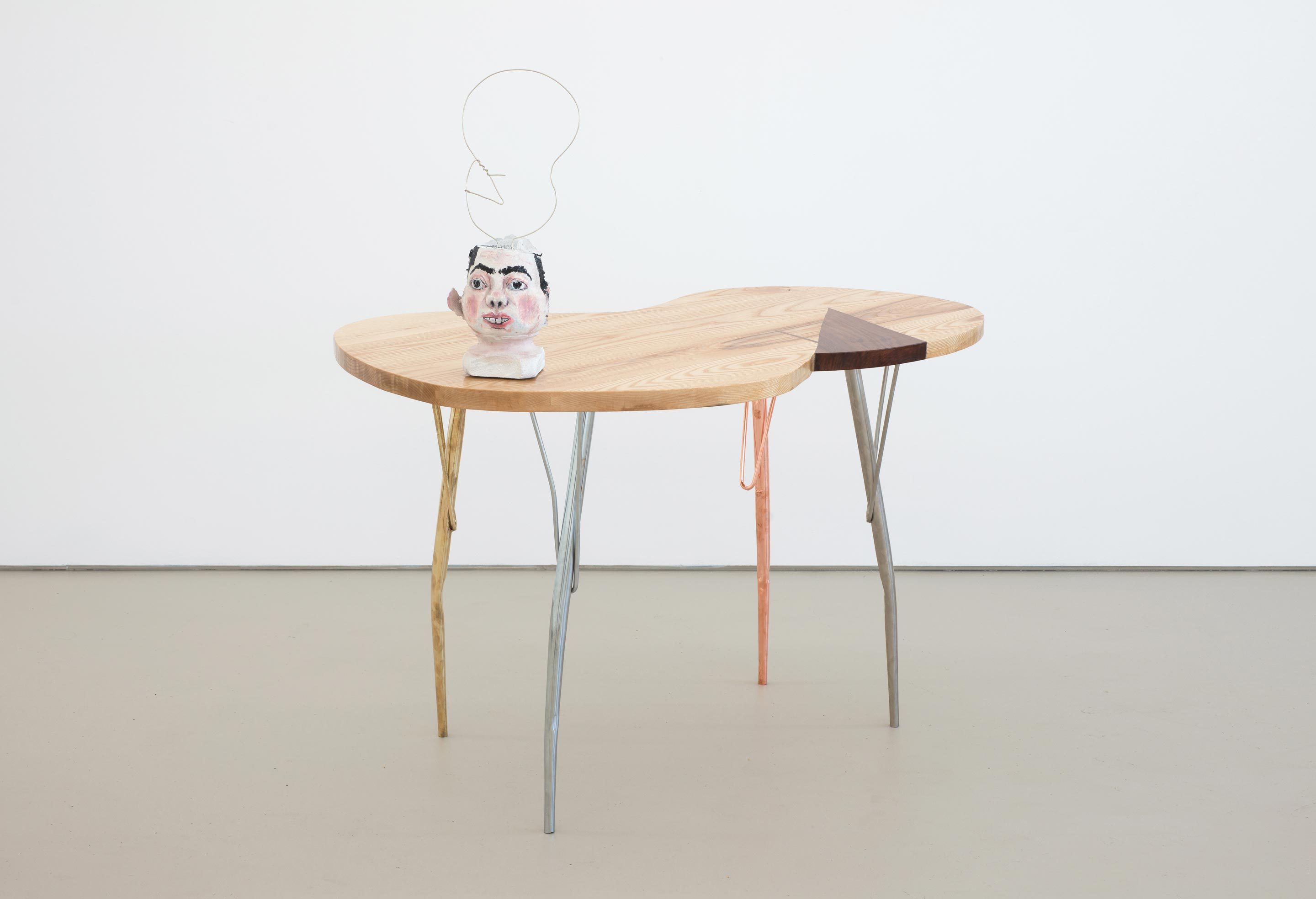 Oscar Enberg
The Pynchons S01E02: Slouching Towards Dignity
31 January – 1 March 2014
Auckland
Hopkinson Mossman is pleased to present The Pynchons S01E02: Slouching Towards Dignity, a solo exhibition by Oscar Enberg.
Oscar Enberg's installations are like storyboards for a movie or television show where the tone, meaning and narrative information is conveyed only through physical objects: sets, décor and props. Where typically objects furnish narratives, in Enberg's work storylines are transmitted and compressed into sculptural forms. In recent work intoxication has functioned as a trope to explore fundamental instabilities in form, transmission and communication. Drunkenness, and the stories that tell it in specific examples from film, television and literature, provide a construction logic that plays out in a series of decompositions, warps and distortions.
For The Pynchons S01E02: Slouching Towards Dignity, Enberg borrows from three storylines (Thomas Pynchon's 1960 short story 'Entropy'; that of The Simpsons local drunk, Barney Gumble; and tribulations of The John Laroquette Show's John Hemingway, a recovering alcoholic and bus depot night-shift manager) to build a material storyboard of consumption, entropic excess, intoxication, exhaustion and recovery.
While in earlier work the figure of the drunk was endearingly present (sketched in recline on a booth seat, or carved into a door), the new exhibition at Hopkinson Mossman seems more staid; the tone is that of the hangover and subsequent rehabilitation. Three otherwise linear concepts underlie the show (and are conflated and confused) to provide a structure by which to read the work: Alcoholics Anonymous's Twelve Steps, the episodic structure of sitcoms, and, as previously, the theory of entropy.
Enberg's forms read as both furnishings and figures in-themselves. Some objects appear designed for figures to work around: a desk with a corkscrew, a floor lamp with a large wine glass as its shade, or a small breakfast nook table produced in American Ash and Walnut. Others sculptures appear as figures frozen mid-decline: a warped display stand staggers under the weight of its oyster shell ornaments, while a cast of a crude carving of Thomas Pynchon's head supports a kidney-shaped wire antenna, like a fan-made therapy object or arcane communication device.
The kidney-shape that recurs in the exhibition is borrowed from an episode of The Simpsons in which Milhouse's father draws 'dignity' in a game of Pictionary (his marriage subsequently ends due to his wife's inability to recognise it). The dignity form is the cartoon within the cartoon, generated in a moment of communication breakdown. Dignity appears in the show as itself and in various disguises, and is echoed in the curve of a pretzel, or the entwined necks of swans. Functioning as both motif and motivational logic for the exhibition, the dignity form is an absurdly abstract representation of the quality the drunk loses, and, as the title suggests, that which the twelve steps seek to restore.
Enberg's sculptures reference commercial methods of production and display, and the language of inexpensive merchandise, but each element is intricately finished. Pewter tankards are chromed, contorted metal stands are powder-coated, corkscrews are cast, and a giant pretzel, Storyboard for The Sunset is hand-carved in Swamp Kauri. The artist's (sometimes violent) interventions with his materials –forms are crushed, bent, dented, folded– confuse or undermine the production process further; the flawed or compromised forms suggest a physical state of dysfunction. Enberg's false sculptural economy is an inversion of the one typically associated with prop making, and sets a precarious balance between the seductive excess of high-finish and the inbuilt entropy of his subject matter.
The Pynchons S01E02: Slouching Towards Dignity sees the introduction of organic materials such as cuttlefish, oyster shells, millet spray, and various tones of wood grain. These inherently sculptural organic textures – with visible signs of growth and time – are inspired by Aubade's (Calisto's love interest from Pynchon's 'Entropy') hermetically sealed apartment that is full of flora and fauna, like a birdcage. The oyster shells also resemble the dignity form and they are pictured, anthropomorphised in dark glasses, like dignity's impersonator or bad twin.
The spiral that features throughout the show originated from a hair curl added to the dignity form (when Enberg pictures dignity as a figure). Alongside the oyster shells and cuttlefish, the spiral signifies the usual themes of growth and time, but it more specifically cartoons entropy: it is linear and constantly turning in one direction (in decline). The spiral also becomes a fitting symbol of Enberg's fractal process – the zoom-in effect that endlessly generates new forms.
The Pynchons S01E02: Slouching Towards Dignity is accompanied by a new artist book by Oscar Enberg. The eponymous publication features a text by Chris Sharp, and is designed by the artist and Warren Olds. The book is published by Hopkinson Mossman in an edition of 50.
Oscar Enberg (1988, Christchurch) graduated from University of Canterbury's Ilam School of Fine Arts in 2010 and now lives and works in Auckland. Recent solo exhibitions include: The Pynchons S01E01, Gloria Knight, Auckland (2013); Reduced Options for Juergen's House, Gloria Knight, Auckland (2012); Returned Merchandise and Joke Seconds, Artspace, Auckland (2012); and Who deflated Roger Rabbit?, ABC, Christchurch (2011). The Pynchons S01E02: Slouching Towards Dignity is Enberg's first solo exhibition at Hopkinson Mossman.
What to make of the strange, idiosyncratic and yet perfectly familiar sculptures of Oscar Enberg? The list of materials, for say, Creative Therapy Table-read (2013), alone is enough to bewilder even the most distracted viewer in a fit of poetic reverie. Behold: American ash, copper plated cast aluminum, sunglasses, cuttlefish bone, gold plated brass, permanent marker, powder coated steel, sterling silver, oil paint and permanent marker on powder-coated aluminum, oyster shells. How does all this fit together? How does it even come to occupy the same time and place?
Governed by narratives stitched together from "high and low" culture, Enberg's frame of reference is known to include everything from Thomas Pynchon to The Simpsons and citations of the 12 Step Recovery program, Alcoholics Anonymous. These disparate elements are Frankensteined together as evocatively improbable narratives and then transmuted, by way of some esoteric process, into sculptures. These works, however, are not rebuses, which the astute viewer must crack, penetrating Enberg's logic in order to apprehend the message encoded in their motley parts. The mystery they compose has every intention of remaining inscrutable– not out of arrogance, but rather for the sake of sculpture, and the mystery without which it cannot exist. Such an observation is, of course, anything but new, and is perhaps better expressed by one of Oscar Wilde's more memorable (and oft-quoted) epigrams: "The secret of life is in art." An aesthetic philosophy, which Enberg seems to approach backwards, or maybe better yet, obliquely, by withdrawing it from everyday life and inserting it back into life via art.
For all its apparent idiosyncrasy, I am inclined to characterize Enberg's sculpture as refreshingly classical, in the 20th century sense of the term. By which I mean, it seems to effortlessly, if a little awkwardly, expand the material vocabulary of what is allowable in sculpture. If I reluctantly write 'inclined', it's because this inclination doesn't seem to be the primary motive behind his selection of materials. This classical expansion seems more like a byproduct of something altogether more personal and objective at the same time – if that is possible (and which is a conundrum that informs the overall mysterious quality of the work). I would also like to qualify my use of awkward by subtracting from it its negative valence, and investing it with something if not more positive, then more ambiguous. For Enberg's sculpture seems to revel in awkwardness the way, say, the geek, accepting his or her irremediable geekness revels in it, or say, the way Pynchon's prose is liable to burst into lyrical gambols of egregious doggerel.
Indeed, if this work were language, a whole new syntax would have to be invented to accommodate it. Things, ranging from oyster shells to chrome-plated steel, are made to go together in a ways that, upon first glance, might strike one as counterintuitive and obstacle-driven, but a certain fluidity nevertheless courses through it. Take for instance the conjunction and mirroring of an outsized, wooden pretzel and the arcing, intertwined necks of two swans in Storyboard for The Sunset (2013). Or say, how the weird wire form jutting out of Pynchon's monstrous-looking head is mirrored in the shape of the table upon which it is placed in Thomas Pynchon as 'The Sponsor' (2013). Not so much mise-en-abymes as they are motifs, these repetitions speak to how this sculpture delicately collides together, splits apart, loops back into itself, and ultimately exists in a sustained fit of unwieldy grace.
– Chris Sharp